SOLUTIONS
Whether you're looking for real-time guard monitoring and reporting, or you're a small security guard service looking to reduce expenses, or you're a billion dollar stakeholder seeking to run your worldwide security operations from a single console, GuardMetrics is your solution:
PSIM PLATFORM
Scalable physical security information management (PSIM) system capable of controlling "all things security", anywhere in the world, from a central location; including CCTV camera systems, access control devices, drone systems, thermal and seismic radar platforms, cyber security operations, next generation facial recognition, social media risk analysis, and the capability to monitor and defend against the dark-web.
Request a demo to see how our security guard tour and incident reporting software will streamline your day-to-day operations, allowing you to focus on winning and retaining more clients and boosting your bottom line!
Offer your customers an Incident Management platform that is convenient and branded just for them. Features include a user-friendly interface with customer-specific features and access permission levels.
Automate scheduling, time-keeping, invoicing and payroll with a single system. You'll save considerable time, eliminate messy paperwork and boost your bottom line by lowering transactional payroll expenses.
GuardMetrics Security Guard Management software is iOS and Android compatible, with simple-to-deploy checkpoints and real-time data accessibility for managers and clients. Officers can scan checkpoints and document events and images in customized reports with the GuardMetrics guard tour system.
Keep the flow of visitors and occupants moving smoothly with this real-time, paperless Visitor Management System. Improve building security, compliance, and visitor safety in a single, centralized system.
Give your employees access to digital post orders, manuals, and client-specific operating procedures on a smartphone, tablet, PC, or MAC computer. Upload and access documents and images using the GuardMetrics user-friendly interface.
ADVANTAGES
Set your business apart with security guard management system software. Streamline operations for your officers, supervisors, administrators and your clients. We partner with our customers to help you win more new clients and increase retention rates!
Security guard company success depends on many factors.  Efficient and affordable guard company software from GuardMetrics can accomplish a LOT of it for you! Take a look around, or just give us a call at (800) 825-6858 to decide for yourself.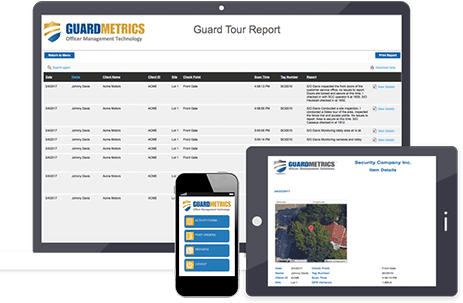 Security Guard Software Deployment has never been this easy! At your convenience, a GuardMetrics expert will walk you through the simple set-up of your new guard tour and incident reporting system. You will have the system branded to your company, customized and deployed in very little time!
A security officer management system will modernize and streamline your operation. This reduces staffing costs, operating expenses and promotes the best use of your assets.
Offer your clients irrefutable proof of performance with real-time security officer tracking software, including guard tour/ patrol and incident reporting capabilities, complete with time stamps and geo tags!
Accurate deliverables and real-time guard tracking secure your reputation, help you win security guard bids, and increase client retention by increasing their confidence in your ability to perform!

Call Guardmetrics now at (800) 825-6858

For a no-obligation demonstration and quote.
Streamline Your Security Guard Management System
Are you still working with traditional guard patrol and reporting options such as old-fashioned wands or guard tour pipes? Are you using the "honor system",  or scribbled reports and paper-clipped photographs? The old tools of the trade just won't cut it in today's competitive, tech-savvy industry.  You need a simple, affordable, efficient security guard management system. 
Clients no longer want to simply know IF an officer did their rounds, or IF the paper report still has the photo attached – that is, if the report can even be found! Your customers want timely and professional documentation and they want transparency and accountability in a security officer management system.  
You don't need to purchase overly expensive guard tour, or incident reporting software that is complicated and time consuming to deploy.
Call GuardMetrics today at (800) 825-6858 for an affordable security guard management system.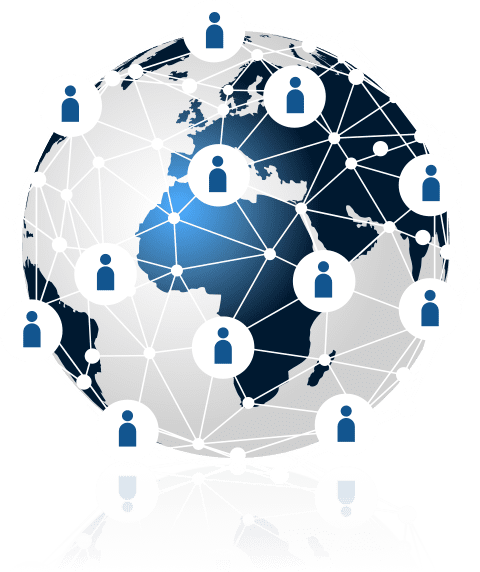 GuardMetrics security officer management software provides a solution that includes exceptional service and consulting from a team of experienced security service professionals. We make it fast and easy for you to deploy and benefit from real-time guard tour patrol management, incident reporting and post order management, all in a single, cost-effective security guard management system.
GuardMetrics' service, support and consulting helps companies compete with any security guard company, including some of the largest security services in the world. Our technology and our people will help you grow faster by helping you improve efficiency, by giving you sales and marketing support and advice, and by helping you network with professional connections across the security guard service industry.  We add value to your business not only by helping you with competitive technology but, just as importantly, by becoming your strategic partner.
*Ask us about our professional marketing support program
Call GuardMetrics now at (800) 825-6858 for more information about our complete security guard management system, all tailored and branded to your security guard business!