EASY SECURITY GUARD SOFTWARE DEPLOYMENT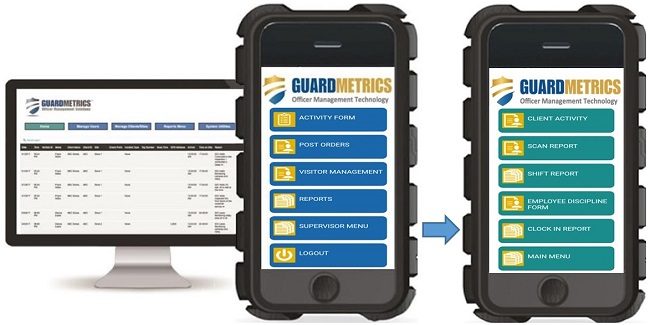 Setting up a security guard management system sounds intimidating, but GuardMetrics makes security guard deployment simple with easy, user-friendly security guard software.
GuardMetrics solutions are mobile-based, and designed to be as user-friendly as possible. Our integrated guard tour, post order management, and simple security incident reporting system improve communication and accountability at all levels of operations, resulting in added value for your customers and a stronger bottom line.
Call us for a

Demo

of this easy security guard software.
What makes the difference is our depth of experience in the security guard industry. With decades of experience in both security and technology, the GuardMetrics team has designed this system specifically for this sector, and designed it to help guard company owners like you win more contracts and retain more customers. A GuardMetrics expert will walk you through the user-friendly, customizable features and set-up, and then stick with you for the duration. Your security guard deployment software will be deployed quickly, efficiently and easily!
Keep it simple with fast and easy security guard management software from GuardMetrics.

 
Right away, you can begin offering your security guard clients branded technology solutions with confidence. They will be duly impressed when they receive incident reports customized to their needs, and branded to your company, exactly when they want them. Property damage, unlocked doors, suspicious persons, vehicles, patrol tracking, and simple task management can be noted instantly from the field using any mobile device–android or iOS–time stamped & geo tagged.
Call us to help you win new clients and improve retention with user-friendly security guard services software!
Whether your client has a single location or multiple sites, our powerful security officer tracking software offers them complete peace of mind. With your permission, your clients will be able to log in any time to see that your company is doing what it was hired to do. This kind of transparency and security guard accountability gives you a clear competitive advantage!