COMMUNITY SECURITY PORTAL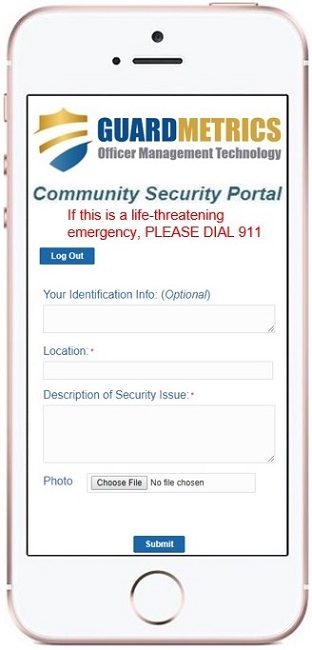 Incident Reporting for residents or employees might not make sense upon first consideration. Incident reports have typically been something that your security officers have submitted to notify the security guard company and the stakeholder of an occurrence that needs their attention.  If you already have GuardMetrics security officer management system (in which the Community Security Portal is included), then those incident reports also include any pertinent videos, pictures and a time-stamp and geo-tag pinpointing the location.   But an incident report from client tenants and stakeholder employees?
GuardMetrics is very pleased to make the Community Security Portal, available as an option to any of your security guard service customers that you wish to share it with.  Very simply, an employee or resident given access to the system can login from anywhere, and from any device, with a password and username assigned to that site.  That resident can then dictate, or type, a brief description of their security concern and click submit.  That report then goes to a group email address in real-time, to alert you, and any stakeholders you include, on your devices.
DEMO

 this employee incident reporting and resident security alerts system that will set you above the competition!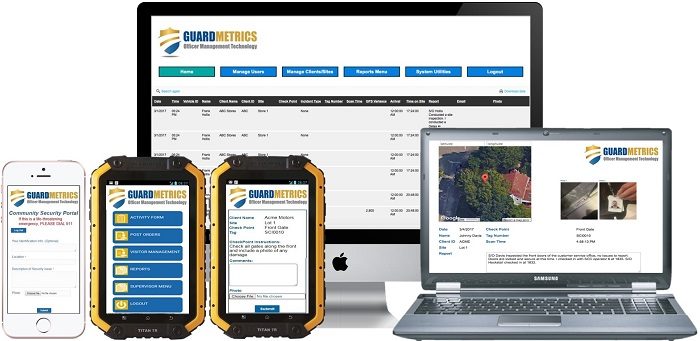 Allowing an employee of a company or government facility, or a tenant of an HOA, condo, or apartment, etc. to submit reports is not common.  The technology involved has been over-complicated and the price point has been driven up.  This kind of technology is now generally available only through large corporations that have a million-dollar system in place, in which employee incident reporting is a small part.
So what if your security guard company could deliver incident reporting abilities for concerned residents or employees as part of your security officer business services?  The question sounds rhetorical because the answer is so wonderfully obvious:  If your security guard company is able to bring such a huge asset to the table, and still keep your price-point at or below your competitors, then YOU are the only choice!
Provide security to your clients with residential & employee incident reporting and security alerts!  
What about identity/ anonymity concerns?  Studies (and common sense) have shown that folks are a lot more likely to report a legal concern if they aren't afraid that police and/ or security will be knocking on their door to get more details.  This thinking is logical, as the very neighbor that they may have reported may be watching from their window.
The GuardMetrics Community Security Portal report has only two required fields, as shown on this page.  The first field, where the resident or employee can include their apartment number, or phone number, or department, etc., is optional.  If the individual would like a call and doesn't fear reprisal, then they are welcome to dictate some information there.  The second field requires simply a "building K parking lot" or some general location description.  Then, a brief dictation of the concern, and that's it!  The whole process can be done in a matter of seconds, making for a safer residential or workplace community for all.  It's that easy!
Call us, or

click here

now, to provide employee and resident incident reporting / security alerts and win new clients!