GuardMetrics-

Octopus
Security Guard APP Scalable to A Full PSIM System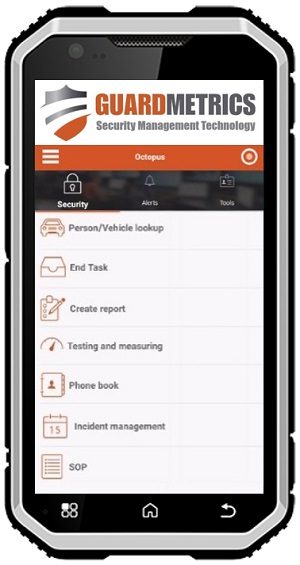 Security guard app technology does not need to be complicated.  A security guard app should be user-friendly and easy to deploy. Therefore, a security guard application developer needs to understand that you hired your officers for other reasons than their technical abilities. The development of the GuardMetrics-Octopus security guard app was directed by just such security experts; officers and soldiers who have worked at the highest levels of security in America and around the globe.
Security guard app software should also be stable and efficient and be supported by a team of experts that can handle your needs, day or night.  The GuardMetrics-Octopus security guard application is supported by over 30 developers and by a Support team with well over 100 years of combined security experience.  We will prove to you, in short order, that we are here for you to the fullest capacity.
Call us to schedule a 

DEMO

 of the GuardMetrics-Octopus security guard app!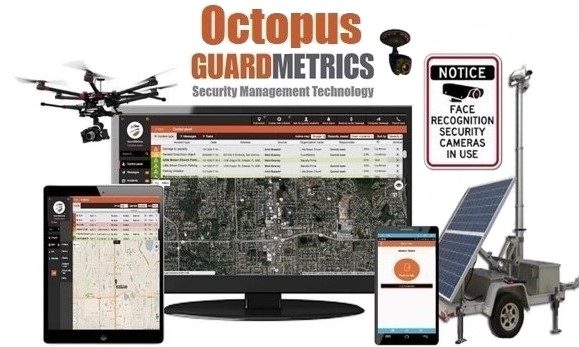 GuardMetrics-Octopus provides a cutting edge security guard app that can be deployed on any smartphone.  The officer management application covers every facet of real-time security guard field management, including mobile reporting, daily activity logs, post order management, push-to-talk, real-time exception alerts, route optimization, QR code, NFC and beacon officer location monitoring, live video stream and much more.
In fact, GuardMetrics-Octopus is the world's first security officer app and officer management system that you can scale into a complete PSIM (Physical Security Information Management) system, capable of integrating with and controlling ANYTHING associated with security operations, worldwide!
Call us to determine if the GuardMetrics-Octopus security guard app fits your needs.  
GuardMetrics is proud to provide next generation security technology, services and consulting to all sizes of security guard services; from start-ups to billion dollar organizations!  The GuardMetrics-Octopus security guard app and officer management system is the perfect solution for a large security guard service that presently has use for PSIM aspects of security management; i.e., 3-D Mapping for Indoor Positioning, controlling CCTV systems, controlling drones, facial recognition, cyber and social media alerts, monitoring thermal radar and seismic sensors, defense against the dark web, etc., or for a small security guard company that presently requires only a great security guard app, but plans to grow in any of these directions.
We hope to be of service, and we are confident that we can be!
Call us, or click here, for more details on this security guard app and other ways that we might be of service, including our other guard tour app!