SECURITY GUARD CHECKPOINT SYSTEM
A security guard checkpoint system, whether for a patrol,  tour or a cruiser checking on several client sites, is necessary to compete in today's demanding security officer industry.  Checkpoint scanning, be it RFID, NFC or QR codes, provides your clients with peace of mind, which means that your client retention will increase.  And including real-time check-point capabilities in your proposals means that a stakeholder considering your guard services bid knows that they will not have to worry about whether your officers are doing what your company was hired to do.  An efficient security guard tracking checkpoint system backs up the reputation that you work hard to build, so you can win more clients and keep the ones you have.
Request a demonstration and see how this security guard checkpoint system will help your guard company grow!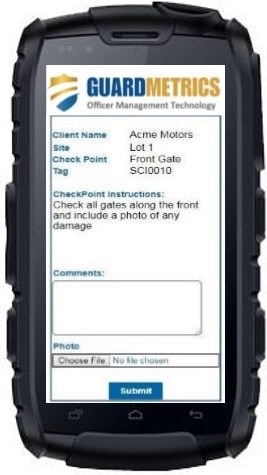 GuardMetrics makes scanning checkpoints and receiving scan reports simple and extremely user-friendly for you, your officers and your clients.  When an officer scans a checkpoint the event is time-stamped and geo-tagged with a satellite photo of where the scan took place.  And one factor often overlooked by security officer checkpoint tracking app providers; just because a checkpoint is scanned that doesn't mean that everything is alright.
With one click your guard opens the correct scan report, populates the time and location data, and can dictate any relevant data and/ or attach pictures and video.  The officer can then simply submit that scan to the officer management system in real-time, where it can be accessed by your assigned guard company management and administrators, to disseminate to your clients when you choose.  If it is urgent, the mobile officer can push the report to any specified personnel in an email as well, alerting those recipients on their own mobile smart-devices.  GuardMetrics even makes a "Client Portal" available to any of your clients to whom you choose to grant access, where your clients can access only their own reports, any time they choose.
Call a security guard checkpoint system expert to see how smooth the process is!
When your client receives a scan report they will be duly impressed.  First of all, the security guard checkpoint system is branded to your security guard company, removing all mention of GuardMetrics and replacing it with your company name and logo.  Your client will receive a clean, professional list of checkpoints scanned, including names, timestamps and geo-tag coordinates.  If they then choose, they can click on "details" and get the satellite picture with a bubble showing where the tag was scanned (if approved by you).  There is no question whether your guard patrols, tours and your company have performed as agreed.  
Call us at (800) 825-6858 for an affordable, real-time security guard checkpoint system, branded to your security business.